Skip to Content
Trusted Roofing Service Experts Since 1938
For more than 80 years, the professional team at A & B Home Improvement has helped home, and business owners take the best care possible of their roof. We are your one-stop shop for all things roofing services. From installation to regular maintenance, repairs, gutter cleaning, and more, we do it all when it comes to the roof and exterior of your home or office. Each technician comes equipped with industry-leading tools and all the certifications and licensing required to give you peace of mind when hiring A & B Home Improvement. Give us a call at the first sign of trouble. Even if you are unsure if there is an issue, it is better to call and inspect the area to save you time and money. Below are some of the frequent questions we get asked about our exterior and roofing services.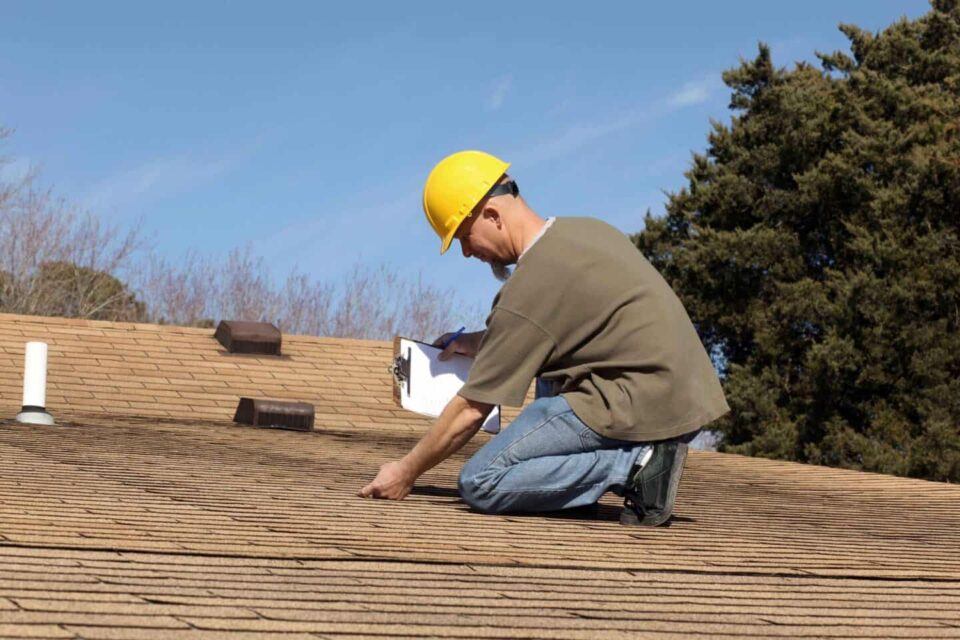 What Are the Different Types of Roofing Systems?
In our many years of experience, we have seen many different changes and innovations in the industry. We have come quite a long way from the straw roofs of yesteryear. Now home and business owners can choose from many different materials to protect what's under the roof.
Slate
Tile
Silicone Flat Roofs
Metal
What Causes Damaged Flashing & Can It Be Repaired?
Flashing can be constructed from many different materials, so there could be many reasons your roof flashing was damaged. Generally speaking, flashing will be made from metal and should be resistant to issues like corrosion and rust, but over time they can still be susceptible to these problems. It's good to check on them with regular maintenance so you will know when to replace them. If your flashing is made from PVC piping, prolonged sun exposure can start to break it down and make it weaker than your galvanized steel or aluminum options. When these damages occur, though, make sure to call the pros at A & B Home Improvement for quick and reliable repairs to prevent water from getting into your home or office.
Is Roof Damage Causing the Stains on My Ceiling?
The stains on your ceiling are more than likely due to a leak in your roof or plumbing. Experts at A & B Home Improvement can swiftly discover the root cause and develop a plan of action to take care of the problem. Whether your roof was damaged in a hailstorm or you need to replace the flashing, our technicians can spot the problem and fix it quickly to prevent further damage from occurring. We can also assess how much damage happened that isn't noticeable and provide repairs.
What Causes Missing Shingles?
Shingles from your roof can go missing for a couple of different reasons. Essex, MD can see its fair share of heavy rain and strong windstorms. The adhesive used to attach shingles to your roof will wear down throughout the years, so it can be effortless for the wind to pick them off the roof and expose your home to leaks. If the wind and rain do not take them, the debris getting thrown around can rip them off or, worse, put a hole in your roof by going through it. Having professionals such as the A & B Home Improvement team professionally install your roof from the beginning can give your shingles a better chance at survival. Weak installation methods lead to shingles going missing more often than not.
How Do You Install Commercial Roofing?
This all depends on what type of roofing your business or office needs. If you have a flat roof, A & B Home Improvement would highly suggest using a rubber roof option. We can completely seal the roof area using ethylene propylene diene monomer (EPDM) and prevent rain or other water sources from getting in to cause mold, mildew, or rot. If your business is located in a house, we can help by installing shingles, tile, metal, and more. From start to finish, our team will be there to show you exactly how we get the job done, and if you have questions, please do not hesitate to ask. We love chatting with our customers about our process to help them understand how the roofing system works. This can help them pay attention to trouble areas and let us know when we need to perform our roofing services.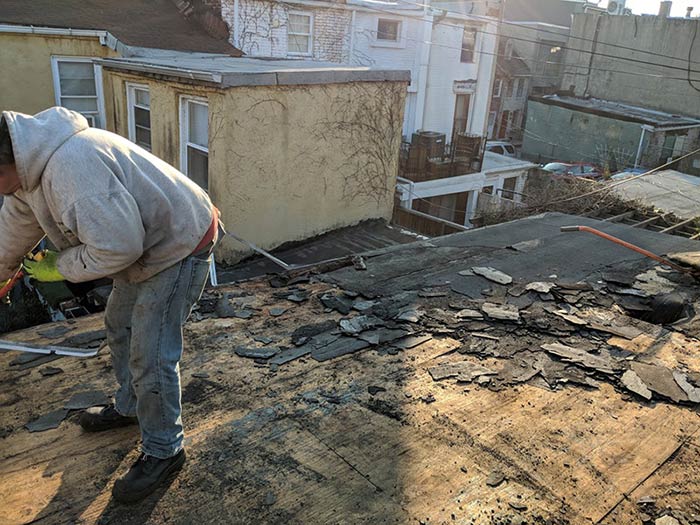 Is There Any Maintenance I Should Be Doing to My New Roof?
Personal maintenance for your roof structure is critical. The A & B Home Improvement pro working on your roof will help you by explaining everything you need to do for your specific roof system. There are some basic tasks everyone should incorporate into their regular at-home maintenance in between our professional visits:
Keep gutters clear from leaves and debris
Check attic and ceiling for leak spots
Trim branches that touch the roof
Clean your shingles, especially after storms
Inspect for mold and mildew
Examine your flashing
Check exterior components such as chimneys, vents, skylights, and pipes
How Do You Fix a Leak in a Metal Roof?
Corrugated metal roofs are one of the more straightforward roofing structure fixes when it comes to leaks. Our professional staff will climb up to the roof to locate the hole or troubled area. We then can cut a piece large enough to cover the hole with a six-inch perimeter. Before installing it, we apply a metal-roofing base coat and then screw in the new section. Finally, we go over the new piece with a glass-membrane fabric roof patch and completely seal it with urethane roof cement to keep water and critter out of your house or office.
How Much Does a Sheet of Metal Roofing Cost?
There are plenty of factors that can determine the cost of your metal sheets of roofing. After we professionally install them, we can give you an exact estimate for individual sheets if you need to purchase for repairs or replacements. Factors like the type of metal, the color of paint, finish style, and more can all determine how much each sheet will cost you in the future. We have access to all the best options and can help find you the piece to fit your budget.
How Do I Choose the Right Roofing Contractor?
Choosing the right contractor to perform roofing services on your home is crucial. They need to be highly trained, friendly, experienced, and well-equipped. Thankfully, A & B Home Improvement has all of these qualifications and more. The residents and business owners of Essex, MD and the surrounding Baltimore County area have trusted us for more than 80 years to deliver expert exterior and roofing services. We're happy to answer any questions you may have about the process or supplies we use. All of our solutions are personalized to meet your needs and wants for the roof.
My Roof is Very Steep, Is This Going to Be a Problem?
Steep roofs are no problem for our professional roofing technicians. They have seen it all when it comes to roofing, and we equip them with all the necessary tools to get the job done correctly. These types of roofs may require extra tools which can show up in the estimate, but we are happy to explain any line item.
Call A & B Home Improvement for a Free Estimate Today
Should you have any further questions about your exterior roofing service needs, please feel free to give us a call—the professional staff at A & B Home Improvement today to get the answers you need. Our well-trained and experienced staff members have all of the licensing, certifications, and tools to get the job done correctly and instill confidence in our customers. We have been providing these services for more than 80 years and can help with whatever issues your roof may be facing. Reach out today and receive upfront, honest, and free estimates about what your roof needs to stay healthy.
We Help Your Home Look Its Best