Skip to Content
Fascia Solutions in Essex, Baltimore & Harford County, MD
What Are Fascia Gutters?
Fascia is installed on the framing of your home to help keep moisture away from the roof and direct water away from your home as traditional gutters do. However, fascia gutters are a more attractive gutter solution, as they create a line that frames the structure of your house. Fascia gutters provide the function of a traditional gutter with a contemporary look. The professionals at A & B Home Improvement are here to maintain the beauty and functionality of your fascia.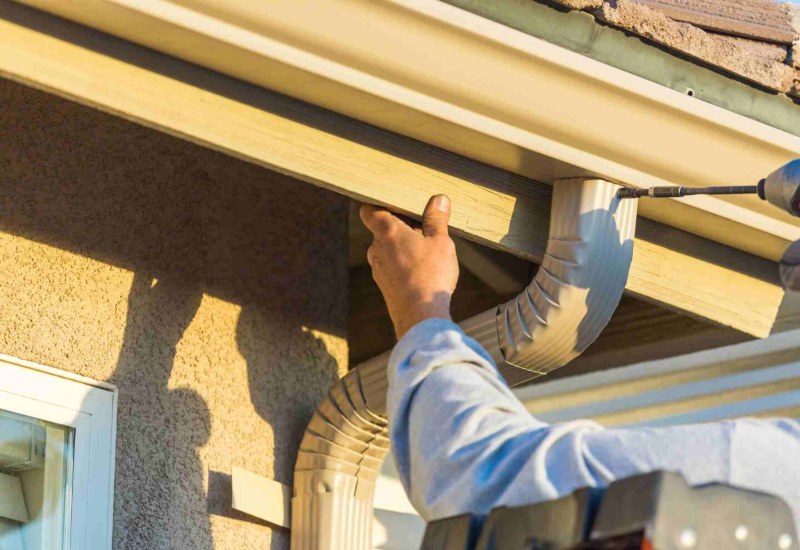 A & B Home Improvement Fascia Gutter Services
Whether your fascia gutters need maintenance or replacement, A & B Home Improvement is here to provide expert service. We offer a range of fascia gutter solutions, including various repair types and replacement of your fascia gutters.
Our Gutter and Fascia Replacement Solutions
When your fascia or traditional gutters need an upgrade, we offer industry-leading fascia replacement solutions to restore the beauty and functionality of your home while protecting it from harsh weather elements. We can provide a replacement for various materials, such as wood, vinyl, or aluminum, and this service can be done during a roofing project or on its own.
Fascia Gutter Repair
Fascia repairs should always be left to the professionals at A & B Home Improvement, as they are vital to your home's support and protection. We offer unmatched repair services to combat rotted fascia boards, warped or damaged fascia, soffit and eave repair, and watertight sealing.
Causes of Fascia Damage
Over time, fascia gutters can experience water damage. Depending on the type of fascia on your home, you can expect different levels of severity regarding water damage. Wood will rot, crack, or even crumble, whereas vinyl and aluminum are more durable, but can still be dislodged or warped by water damage.
Choose A & B Home Improvement
Since 1938, our professionals have served the Baltimore, MD area with exceptional craftsmanship, detail-oriented customer service, and reliability. We aim to provide unparalleled results for a cost-effective price, including our warranty for added comfort and insurance. Our experts are licensed and backed by training, making them your best choice for the job.
Contact A & B Home Improvement
If your fascia gutter needs repair or replacement, you've come to the right place. A & B Home Improvement offers a range of solutions to maintain your fascia gutters with high-quality service. Contact us to get an estimate in Baltimore, MD today!
We Help Your Home Look Its Best