Skip to Content
Slate Roof Installation in Baltimore & Essex, MD
Home and business owners throughout Essex, Baltimore, and Harford County, MD can expect superior slate roofing services from A & B Home Improvement. Our family-owned and -operated home improvement company has provided top-of-the-line services to the local area since 1938. With more than 80 years in the business, you can rest assured you're in highly-qualified hands when you partner with our professional team. Slate roofing is a specialty of ours. If you're looking for slate roofing contractors in Baltimore, you've come to the right place.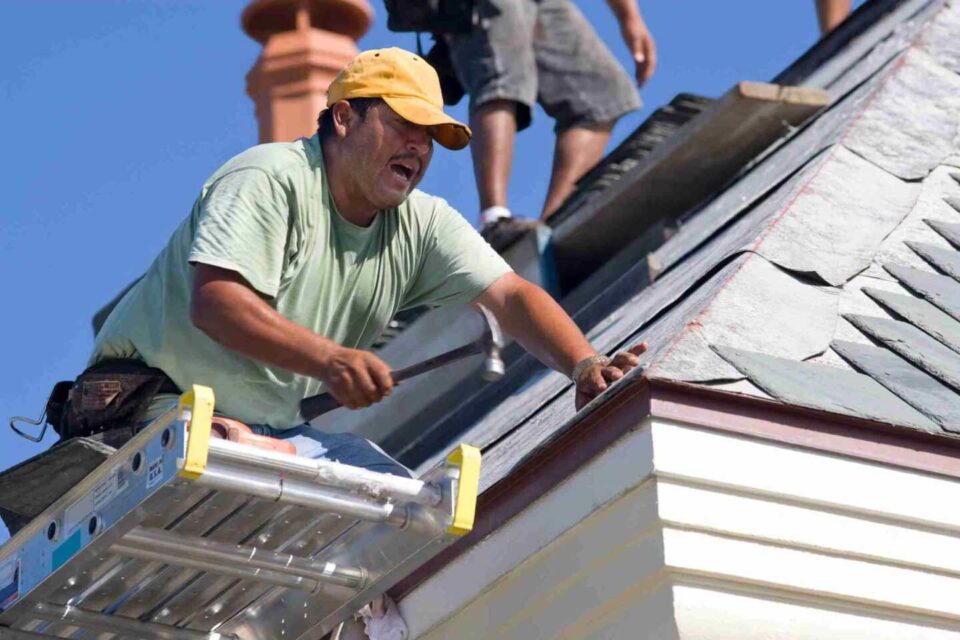 Why Choose Slate Roofing?
In addition to slate roofing, our home improvement company offers a wide range of additional roofing options, including asphalt shingles, flat roof repair, soffits roofing, rubber roofing, and more. What makes a slate roof stand out above the rest? Slate roofs are among the hardiest, most durable roofs in the industry. They are also easy to repair and long-lasting. Reasons to choose slate roofing include:
Beauty
Durability
Longevity
Eco-Friendly
Minimal Maintenance
Resistance to Chemical Pollutants
Non-Combustible
Fireproof
Naturally Insulated
Unaffected by Freeze Cycles
Unaffected by Thaw Cycles
Resistance to Hail
Proven Performance
Not Affected By Mold or Mildew
Slate Roofing Repair & Maintenance is Our Expertise
If your home or business is already equipped with a durable slate roofing system but needs repair or maintenance, we can help. As the go-to slate roofing specialists in Baltimore, MD and the surrounding areas, you can trust A & B Home Improvement to give you the best slate roofing system possible. Check out our gallery of roofing work for some insight into our past roofing projects. Check out our FAQ page to learn more about our home improvement company and the services we offer. We'll be with you through every step of your project, from planning and designing if installing a new roof to inspecting and repairing if your slate roof has undergone considerable damage. We've got you covered.
Frequently-Asked Questions About Slate Roofing
When it comes to slate roofing, home and business owners tend to have a lot of questions. Below, we've answered some of the most frequently-asked questions about slate roofing.
Do Slate Roofs Need to Be Cleaned?
In short, yes. Some level of maintenance is necessary for this type of roofing, even if the level of maintenance is minimal. Occasional maintenance will help remove pollution and organic growth. We offer power washing services for various types of slate roofs. The reason why not every type of slate roof can be pressure washed since softer slate types can be damaged by this form of maintenance. In contrast, the harder slate types can be effectively cleaned in this way.
Can My Slate Roof Be Repaired?
Slate roofing can be repaired and doesn't necessarily have to be replaced when damaged. There are numerous ways that a slate roof – or any roof, really – can become damaged. Damage can be caused by stress cracks, over nailing, foot traffic, fallen tree limbs, inclement weather, and more. It would be costly to replace your slate roofing system every time it underwent any damage. An experienced roofing contractor will be able to match the existing color of your roof, identify its size and thickness, and expertly repair or replace missing or damaged slates.
How Often Should I Have My Slate Roof Inspected?
If your home or business is adorned with a slate roof, we recommend having your roof inspected annually. One reason your roof may need to be inspected more than once a year is if a significant wind or ice storm has passed through. An inspection can ensure that there are no broken or missing pieces.
What are the Black Streaks on My Slate Roof?
If you notice black streaks on your slate roof, the cause is typically air pollution or organic growth such as algae. When your slates develop black streaks, their performance won't be affected, but their beauty will be. We offer slate roof maintenance in Essex and would be more than happy to clean any dirt and grim lingering on your slate roof. With our slate roof maintenance, we can restore the beauty of your roof quickly and efficiently. Reach out today with questions regarding slate roof maintenance.
How Long Will a Slate Roof Last?
With proper care and maintenance, a slate roof can last many decades, with some even lasting more than 100 years. However, it's important to note that the life expectancy of a slate roof can be impacted by climatic conditions, roof pitch, slate quality, and more. While considering climatic conditions and roof pitch variability, most slate roofs will last between 40 and 75 years.
Contact A & B Home Improvement Today
Look no further for durable slate roofing in Baltimore and the surrounding areas. A & B Home Improvement provides professional roof installation, repair, and maintenance. We do our best to stay competitive and run specials based on the season. Check out our discounts and coupons page to learn more about our special offers. While our promotions cannot be combined, certain ones we offer extend up to $300 offer a service. Contact our roofing company today and receive $300 off on your brand-new slate roofing installation service. Additional financing options are available.
We Help Your Home Look Its Best