Skip to Content
Roof Inspection in Baltimore, Essex & Harford County, MD
Reliable Residential Roof Inspections By A & B Home Improvement
A & B Home Improvement is the local roof inspection company in Essex, Maryland homeowners trust. Your roof is essential to protecting your home and your family. You must act fast to avoid catastrophic damages if it's beginning to fail. Our knowledgeable and trained roofing technicians can ensure your roof is in good condition. We have decades of experience identifying common types of roof damage and making recommendations for roof repair or replacement services. Since 1938, we have been assisting homeowners throughout the region, and we're confident we can assist you too. If you notice any common signs of damage to your roof, contact our team today to schedule your roof inspection.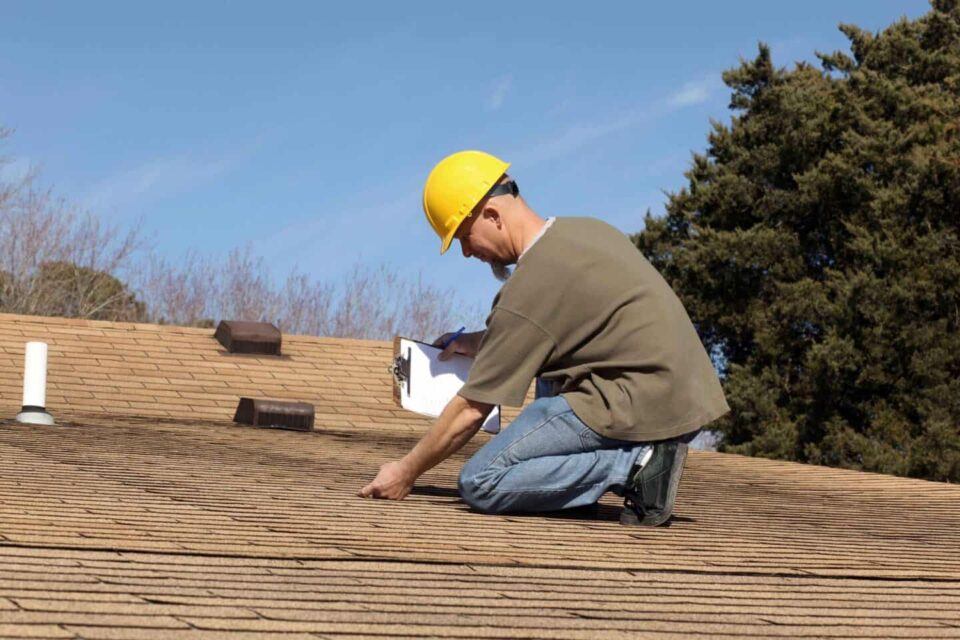 Our Comprehensive Roof Inspection Process
When you choose A & B Home Improvement, our reliable and knowledgeable team will perform a comprehensive roof inspection service. We have completed hundreds of roof inspections throughout the years and have refined the process to guarantee the best results for our customers. We will work diligently to provide you with clear and concise information about the quality of your roof. Once complete, we'll make a recommendation for a roof repair or roof replacement service. Our contractors will conduct an extensive inspection that includes:
Skylights – Skylights are one of the most vulnerable parts of your home's roof. If the roofing material isn't installed correctly or in good condition, your roof will allow water to seep into your home.
Flashing – Metal flashing is designed to protect areas including sidewalls, roof valleys, and protrusions. However, over time, flashing can pull away from the area it's meant to protect, leaving your home exposed to the elements.
Shingles – Your home's shingles are manufactured and installed as an entire roofing system. If any shingles are damaged or missing, your entire roof may become vulnerable to inclement weather. We'll investigate the condition of your roof's shingles to ensure you're protected.
Nails – While small, water can penetrate the roof through empty nail holes. Roofs are typically installed to prevent exposed nails. However, every roof is different.
Common Signs You Need a Roof Inspection
Knowing the importance of a residential roof inspection is essential. However, as a homeowner, it's crucial that you know the signs your roof may be beginning to fail. A leaky roof can be easy to spot, but sometimes it's already too late. And climbing a ladder to inspect the roof yourself can be dangerous. Luckily, numerous issues are safe and easy to identify without ever leaving the ground. If you notice any of the following warning signs, you should immediately contact a roof inspection company.
Shingle Granules – If you find excessive shingle granules in your gutter runoff, then it's time for a roof inspection. Granules not only provide an aesthetic appeal for your roof; they offer UV protection. Without adequate granule coverage, your roof will deteriorate at a rapid rate.
Missing Shingles – Even a single missing shingle can lead to extensive water damage. If you discover shingles in your yard or laying on your roof, it's imperative to schedule a roof inspection to determine the extent of the damage.
Older Roof – Over time, roofs degrade and offer little protection against rain and snow. If your asphalt shingle roof is 20 years or older, you should have it inspected even if you haven't noticed any other issues.
Peeling Shingles – Curled or cracked shingles will expose the underlying plywood to moisture from rain and snow. Curled shingles are easy to identify from the ground because the shingles don't sit flush up against the shingle below them.
Moss Build Up – While moss on your home's roof may not seem like a significant issue, it can lead to substantial damage. Once the moss takes root, it will separate the shingles, providing an entryway for moisture into your home.
Why We're the Roof Inspection Company You Can Trust
Throughout the years, A & B Home Improvement has provided homeowners throughout the community with high-quality services at an affordable price. Our goal is always to ensure you're 100% satisfied with the quality of our work, no matter the size or scope of the project. More homeowners choose us because we provide:
Thorough Service – We're you're local, trusted expert for a roofing inspection, repair, and installation. Our team can do it all. Regardless of the size and scope of the project, you can always count on us to complete the project on time.
Friendly Assistance – As a part of the community we serve, we understand the importance of providing friendly assistance to each customer. We'll explain the issues we're finding with your roof and answer any questions you may have about its condition and solutions.
Quality Craftsmanship – We're a locally-owned business, so it's imperative to our reputation that all our projects are completed using high-quality materials and trusted techniques. Our projects are backed by a 15-year warranty or more.
Choose A & B Home Improvement for Superior Roof Repair Service
Homeowners throughout Essex, Maryland, and the surrounding communities trust A & B Home Improvement for roof inspection services. Our local and knowledgeable professionals have the experience to handle any residential roof inspection project regardless of your roof's size and complexity. By focusing on high-quality customer service, our customers can always expect the very best services at an affordable price. If your roof is old, damaged, and needs an inspection, contact our team today to schedule your service.
We Help Your Home Look Its Best