Skip to Content
New Roof Installation Contractors
Our Residential Roof Installation Process
To ensure your roof protects your home and lasts, choosing a knowledgeable and experienced roofing contractor for new residential roof installation is crucial. At A & B Home Improvement, our knowledgeable and experienced roofers follow a comprehensive roof replacement process to ensure your home is protected. Our professional team will be available to answer any questions you have about your new roof. 
Schedule a Consultation – The first step of any roof replacement is a free in-person consultation. Our team will come to your home with a sample of the roofing materials and styles we offer.

 

Site Preparation – We're committed to ensuring you enjoy a seamless installation process. Before we get started, our team will evaluate your property to protect your landscaping, windows, and other valuables during installation. 

 

Roof Installation – Depending on the size and scope of the project, most roofing projects take about one or two days to complete. We use trusted tools and techniques as well as

top-quality products

on the market for the best protection. 

 

Clean-Up – Once we're through with the installation, our team will take the time to remove any debris from around your yard, including nails, shingles, and packaging. We're committed to leaving your home even more beautiful than when we started. 

 

Commitment – Your satisfaction is our top priority. We'll follow up with you after the project is complete to ensure you're satisfied with the results.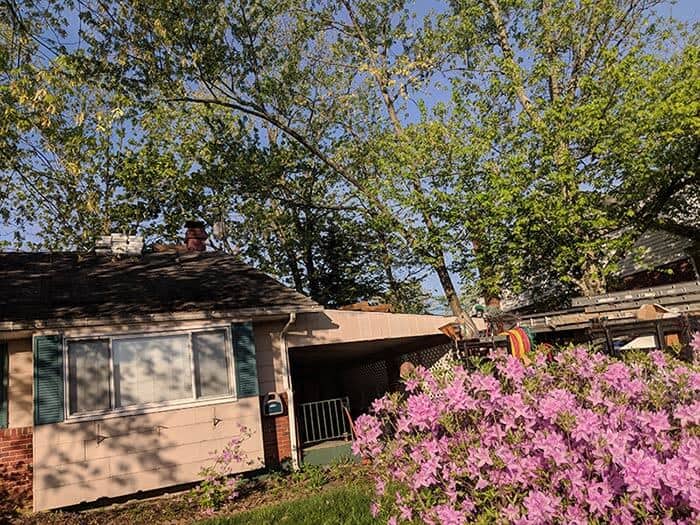 What Are Some of the Benefits of a New Roof?
The primary purpose of your home's roof is to protect it from the damaging effects of rainwater and moisture. However, there are numerous other benefits to installing a new roof. When you choose A & B Home Improvement for new roof installation, our team of roofing professionals will help you understand all the benefits of installing a new roof on your home. 
Increased Home Value – Installing a new roof significantly increases the value of your home. Homebuyers are willing to spend more for a home they know is protected with a new roof. 

 

Reduce Energy Costs – Asphalt shingles are designed to help control the temperature inside your home by reflecting heat from the sun. 

Updated Curb Appeal – Old roofs can be dirty, stained, and discolored. When you install a new roof, it immediately revitalizes your home's curb appeal. 

Better Indoor Air Quality – Moisture accumulation on your old roof leads to mold and mildew growth which can significantly impact your home's indoor air quality. 

 
When Should I Install My New Roof?
Unless you're a roofing professional, you may not know when to replace your home's roof unless you see water dripping from your ceiling. Fortunately, there are several ways in which any homeowner can determine if their home needs a new roof. If you're still unsure, you can count on our friendly roofing professional to come to look at your roof. Once we conduct a thorough inspection, we'll make roof repair or roof replacement recommendations. Pay attention to these signs that your roof may need to be replaced.
Leak Detected

–

If you notice discoloration on the ceiling in your home, it could be a sign of a roof leak. Regardless of whether it's wet or dry, water in your home is never a good sign. Make sure you eliminate the possibility of a leak caused by waterlines throughout your home.

 

 

Curled Shingles –

Curled shingles are usually the result of excess moisture. However, it may be a sign of old age or improper installation. Whatever the reason, curled or cupped shingles are not providing your home with protection from rainwater and should be replaced immediately.

 




Age –

Knowing the age of your home's roof is vital because it allows you to be prepared for the cost of a new roof installation. Luckily, asphalt shingles don't typically all fail at once unless a storm has damaged them. If your roof is over 15 years old, you should consider replacing it.

 

 
Missing Granules –

Asphalt shingles are manufactured with granules which help give them their color and help block the sunlight. Unfortunately, they may begin to fall off your shingles and end up in your gutters. Shingles with missing granules will more rapidly deteriorate, leaving your roof vulnerable. 

 

Moss Growth –

Moss thrives under the shade of large trees. If you have any tree overhang above your home, regularly inspect that part for moss. Moss may seem harmless. However, it can cause significant damage to your roof by peeling and lifting the shingles.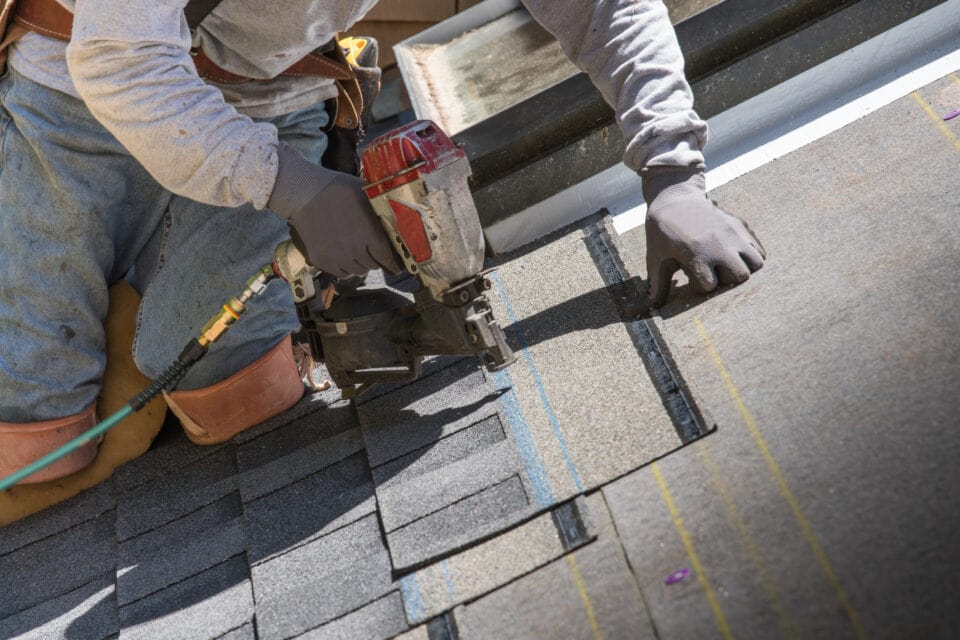 A & B Home Improvement Is Your New Roofing Service Expert
Shingle roofs need to be replaced every 15 to 30 years, depending on the quality of the material and installation process. At A & B Home Improvement, home roofing contractors in Essex, MD will ensure that your new roof protects your home and looks great. Since 1938, our licensed roofing contractors have been servicing the local community. Our team always strives to ensure you're completely satisfied with your new roof installation. We understand that a new roof is a significant investment. However, a new roof offers better protection against inclement weather and is also a considerable value-add to your home. You can count on us to answer any questions you have about our products and our installation process. Schedule your roof replacement service today, and you could receive $300 off.
Choose Our Professionals for New Roof Installation
Homeowners throughout Essex, MD and the surrounding communities trust the professionals at A & B Home Improvement to provide them with reliable and high-quality new roof installation. If you notice any of the obvious signs that your roof is beginning to fail, our residential roofing contractors will be there to keep you and your family protected. We use a high-quality and reliable installation process. There are numerous benefits to installing a new roof. Contact us today to schedule your new roof installation consultation today to get started.
We Help Your Home Look Its Best