Skip to Content
Roof Repair Services You Can Rely On
A & B Home Improvement provides professional roof repair in Essex, MD and throughout the surrounding areas, including Baltimore, Harford County, and more. As the area's go-to leaking roof repair company, you can rely on us to get the job done the first time. A leaking or damaged roof is bad news for your home. But luckily, if the problem is caught early, significant damage can be prevented. Our expert team can handle any roof-related situation, including cracks, leaks, missing, shingles, broken gutters, and more. With over 40 years of roofing contractor experience, we know exactly what to do to repair your roof and restore its strength. We'll ensure your roof is sturdy, keeping your home's value intact and your structure and family protected.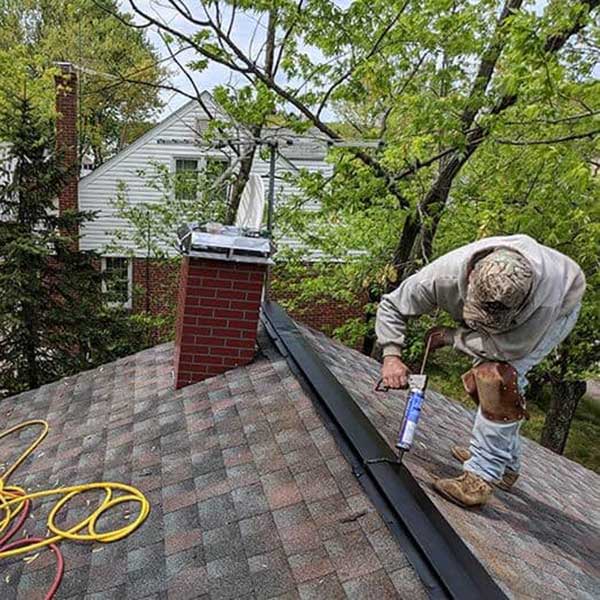 When To Call A Roof Repair Contractor
While most roofs can last between 20 and 50 years, that doesn't mean that they don't need regular maintenance to endure that long. If you've slacked off with routine roof maintenance or recently had some bad weather roll through, it's essential to inspect your roof for signs of damage. If you notice any of the following signs of roof damage, it's time to call our roof repair contractor:
Standing water on the roof
Indoor water stains around the ceiling
Warped or buckled roof membrane
Damaged or rusted flashing
Cracks in your ceiling or roof
Missing or popped shingles
Algae, mold, or moss growth
The Types Of Roof Repair Services We Offer
We can handle all roofing problems at A & B Home Improvement. Whether you have a roof leak that's getting into your attic or you've noticed a few missing shingles, our full roof replacement contractors are the team for the job. We will perform a thorough inspection of your roof and provide an upfront roof repair estimate, as well as a time frame for when your project will be completed. This way, you'll know exactly what to expect before we begin work. We provide repair service for the following roofing problems:
Leaky roofs
Leaky pipe collars
Leaky flashings
Leaky chimneys
Rotting wood
Loose shingles
Damaged shingles
Loose fascia
Damaged fascia
Damaged venting
Wind destruction
Collapsed roofs
What Do Roof Repairs Cost?
Roofing repair costs can vary, but the national average roof repair cost is $992. Most homeowners will spend between $376 and $1,657 on roof repairs. All large roof repair jobs should be handled by a roof repair company, such as the A & B Home Improvement team.
Our Roofing Repair Process
Our roofing repair process begins with a thorough roof inspection. Our expert team will look for roof damage of any kind, as well as structural faults. Next, we will report to you with an accurate estimate for the required roof repairs. From there, we will perform the necessary repairs. Our job is only complete once our valued customer is delighted with the work we've done.
Contact Us For Roofing Repair Today
When you hire roofing repair contractors A & B Home Improvement, you can be assured you're getting a trustworthy home roofing repair service. With decades of experience under our belts, we can offer excellent craftsmanship coupled with superior customer service. We always go the extra mile for our roofing repair customers, ensuring they are satisfied with the outcome of our roof repairs. Additionally, we back up shingles with a 15-year workmanship warranty for added peace of mind. Now, you'll know your home is protected for years to come. Contact us today to learn more about how we can help or to request an estimate.
We Help Your Home Look Its Best