Skip to Content
The Team You Need for Roofing Repairs in Baltimore County
A leaking or damaged roof is bad news for your home. But luckily, if the problem is caught early, you can prevent significant damage. That's why at the first sign of trouble, you need to call a professional team to address the problem. A & B Home Improvement can provide roofing repairs in Baltimore County. We're able to handle any problem you have with your roof, including cracks and leaks, missing, shingles, broken gutters, and more. We have over 40 years of experience, meaning we know exactly what to do to repair your roof and restore its strength. We'll ensure your roof is sturdy, keeping your home's value intact and your structure and family protected.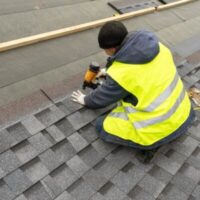 We'll Repair Any Roofing Issue
We're able to handle all roofing problems at A & B Home Improvement. Whether you have a roof leak that's getting into your attic or you've noticed a few missing shingles, our repair contractors are the team for the job. When we come out to assess the condition of your roof, we'll do a thorough inspection and give you an upfront roof repair estimate as well as a time frame for when your project will be completed. This way, you'll know exactly what to expect before we begin work. We provide repair service for all of the following roofing problems:
Leaky roofs
Rotting wood
Loose or deteriorated shingles
Damaged venting
Wind destruction
Collapsed roof
Know Your Home is Protected
When you hire A & B Home Improvement, you can be assured you're getting trustworthy service. With decades of experience under our belts, we have the ability to offer excellent craftsmanship coupled with superior customer service. We always go the extra mile for our customers, ensuring they are satisfied with the outcome of their repairs. And to top it all off, we back up shingles with a 15-year workmanship warranty for added peace of mind. Now you'll know your home is protected for years to come. Contact us today to learn more about how we can help or to request an estimate.
We Help Your Home Look Its Best