Skip to Content
Baltimore's Premier Commercial Roofing Company
Locally Trusted Commercial Roofing Contractors
Your business's roof is constantly exposed to the elements, such as severe weather, falling debris, humidity, and fluctuating temperatures. Even the most well-maintained roof will need professional services from time to time. We understand the importance of finding a local team you can trust to keep your business protected. A & B Home Improvement offers unrivaled commercial roofing services to businesses in Baltimore, Essex, and Harford County, MD. We'll work with you to restore, replace, or repair your roof without affecting your bottom line. Our roofing technicians will provide an honest and up-front estimate before beginning any work. Learn more about our commercial roofing services or schedule your free estimate today.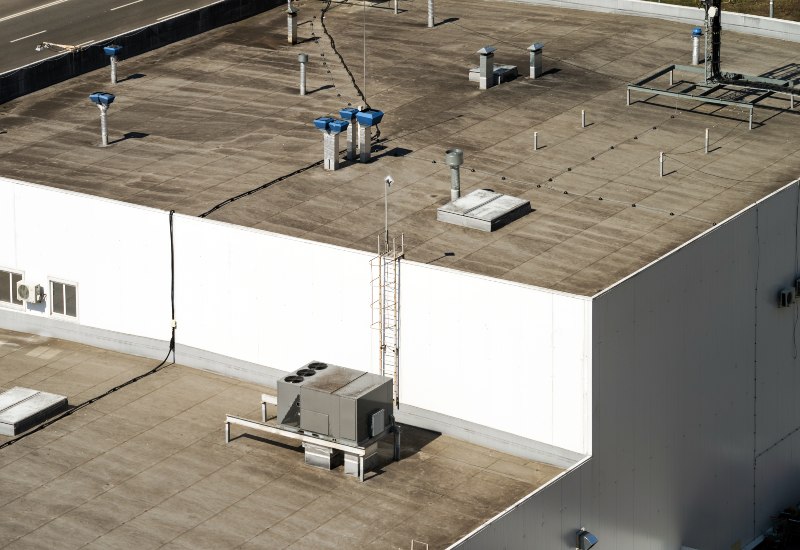 Our Guide to Different Commercial Roofing Systems
Commercial and residential roofs share the same function of protecting the property against weather, elements, and debris. But that's where the similarities end. When repairing, replacing, or installing a new commercial roofing system, our technicians must consider intense heat and extreme cold while providing a surface that supports high foot traffic. All these factors determine the correct type of commercial roofing system for your business. Here are some of the more common commercial roofing systems our technicians install and repair:
Single Ply Roofing – This system uses flexible and robust materials such as PVC and TPO. These materials resist peeling, cracking, and most types of weathering. The main difference in this roofing system is that it's installed to be a single layer.
Thermoplastic Polyolefin (TPO) – More commonly used on low-slope roofs, this system uses reinforced roof sheets with heat-welded seams. TPO comes in various colors, such as white, gray, and tan. It can be installed in several ways, including mechanically attached, ballasted, or adhered.
Polyvinyl Chloride (PVC) – This commercial roofing material comprises two layers of PVC with a reinforcement scrim between the layers. The top layers ensure the material is UV resistant. The bottom layer is designed to make it more flexible and easier to install. PVC is an excellent choice because its durable, has a long lifespan, and is fire resistant. You can weld PVC, making it watertight.
Ethylene Propylene Diene Monomer (EPDM) Roofing – EPDM is known for its elasticity and durability. It's known for its resistance to UV light. It's an affordable option that's best used in low-slope commercial properties.
Metal Roofs – Well known for their looks, lifespan, and durability, metal roofs are flexible enough to be used on low-slopes and steep roofs.
Shingles – Shingles are one of the most common roofing materials used. They have a lifespan between 25-50 years.
Slate Roofs – Slate roofs are well known for their lifespan. If you want to make a statement with your commercial property, slate roofs are the answer. They can increase your property value.
What Commercial Buildings Do We Service?
When you rely on the experienced technicians at A & B Home Improvement, you'll receive premium materials and unrivaled service. Our team of licensed commercial roofing contractors has the experience and training to handle roofing projects for properties of all sizes and work with all roofing materials. Review the commercial properties we service:
Apartments
Warehouses
Restaurants
Retail Properties
Healthcare Facilities
Sports Venues
Entertainment Complexes
Manufacturing Properties
Office Buildings
Religious Centers
Resorts
Schools and Educational Properties
And More
Benefits of Hiring the Right Commercial Roofing Contractor
Commercial roofing installation and repairs are the tedious, time-consuming task that is best left to the professionals. We recommend investing in a professional commercial roofing contractor. A & B Home Improvement has the skills to help maintain your commercial roof. We can fix minor concerns or replace entire sections without reducing your roof's lifespan. Here are some key benefits of hiring our commercial roofing contractors:
Experience and Professionalism – When looking for the right roofing contractors, we recommend considering years of experience. Our experienced roofers know how to repair and work with various materials. Expert and professional contractors are committed to exceeding customers' expectations.
Cost-Effective – Relying on professionals will save you money in the long run. We're committed to offering competitive up-front, and honest prices while delivering premium services. A & B Home Improvement offers free estimates on all projects and will work with you to find the right materials to match your budget.
Warranty – We proudly offer a 15-year warranty on all projects we work on and complete. Our goal is to provide you with peace of mind that you made the right choice. Professional roofing contractors inspect thoroughly to ensure all repairs or installations are done correctly.
Time Management – Hiring the right commercial roofing contractors will save you money and time. The right contractor will ensure your project is completed in the allotted time. Thanks to the industry-leading techniques and equipment they use.
Commercial Roofing FAQs
Installing or replacing a commercial roof is a significant investment for any business. A & B Home Improvement wants to help you make the right choice by providing as much information as possible. Whether you're looking for a new contractor, or have questions regarding how much a commercial roof is going to cost, here are some answers to frequently asked questions regarding commercial roofing projects:
Contact Us for Your Commercial Roofing Needs
Whether you're looking for assistance with minor repairs or a new commercial roofing contractor, you can rely on A & B Home Improvement to help. We're a locally trusted home improvement company committed to delivering cost-effective and efficient results. A new commercial roof can help decrease your energy bill, improve your curb appeal, and protect your property from all weather. When you call us, we'll work with you to find the perfect system for your needs and budget. Call us today to request your estimate.
We Help Your Home Look Its Best