Skip to Content
Asphalt Shingle Roofing Services
Consider Asphalt Shingles for Your Home's Roof
When you drive through a neighborhood and compare homes, you will likely find an abundance of roofs covered by asphalt shingles. This roofing style is the most popular due to its affordability and ease of installation. Homeowners in Baltimore, MD know they can trust A & B Home Improvement to install, repair, or maintain their shingles to ensure beauty and protection from Mother Nature. We have been a community staple for more than 80 years, and our team has the expertise to handle all of your roofing needs. Regardless of the age of your home asphalt roof or the condition of your existing roof, we are happy to help. Call us today to get started.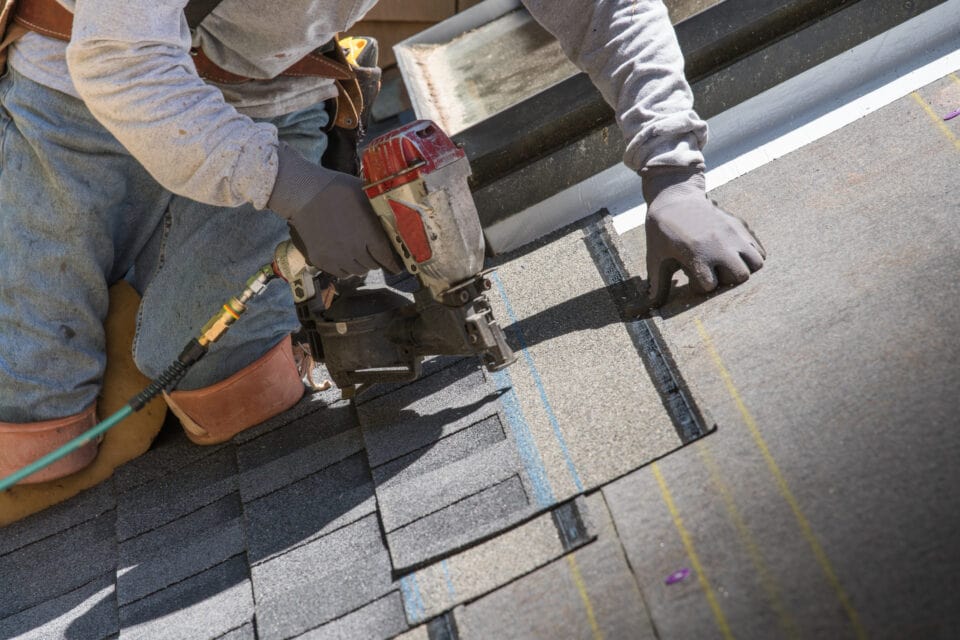 What Are Asphalt Shingles?
Asphalt shingles are roofing materials comprising several layers. Typically, an asphalt shingle has either a felt paper or fiberglass base. This foundation is covered with a waterproof layer of asphalt and then topped with ceramic granules. We make an effort to offer asphalt shingles that are as environmentally-friendly as possible. Eco-friendly options include shingles with solar-reflective asphalt that prevents the sun's rays from heating your home, which leads to lower energy demands. During the installation process, our roofers will layer shingles across your entire roof to provide complete coverage and protection from rain, wind, hail, and wintry weather. Most roofs consisting of asphalt shingles will last for 20 to 30 years.
Types of Asphalt Shingle Roofs
When selecting your new roof, you should understand the many options you have available. A & B Home Improvement's professionals will gladly meet with you to discuss the different styles of asphalt shingles, which include:
Three-Tab Asphalt Shingles – These are the most common form of asphalt shingles. Their unique style makes a single shingle look like three separate pieces. They are lightweight, energy-efficient, and affordable.
Architectural Asphalt Shingles – If you want a unique appearance for your home, you should consider architectural asphalt shingles. These are laminated and come in a wide selection of colors to match your style.
Luxury Asphalt Shingles – Luxury asphalt shingles are designed to look like other roofing types, such as cedar shakes or slate roofing.
Benefits of Asphalt Roofs
Homeowners opt for asphalt roofs for a variety of reasons. As a result of their appeal, asphalt shingles are the most popular roofing material across the U.S. We encourage asphalt shingles to our customers because of advantages such as:
Affordability – Asphalt roofs are among the most economical options available on the market. We will be happy to provide you with a free estimate.
Durability – Our team is adept at installing new asphalt roofs and ensuring they last for 20 years or more.
Fire Resistance – Asphalt roofs have a very high kindling point, meaning you will have peace of mind that you are protected in the event of a fire.
Minimal Maintenance – Roofs comprised of asphalt shingles are easy to maintain. Furthermore, replacing shingles is much easier and more affordable than repairing other roofing materials.
UV Protection – Asphalt shingles reflect ultraviolet rays, helping your home stay cool during the dog days of summer.
We Perform Installation, Repairs, and More
A & B Home Improvement has extensive experience handling all types of asphalt roofing projects. Our roofers are highly trained and share a commitment to customer service that you will not find anywhere else in Harford County or Baltimore County. Regardless of your roofing needs, we are the team to call. Rely on us for:
Asphalt Shingle Installation
Asphalt Shingle Replacement
Asphalt Shingle Repairs
Asphalt Shingle Maintenance
When to Replace Your Asphalt Shingles
Over time or after a significant storm, you may need to address problems with your asphalt shingles. Maintenance and repairs are necessary to avoid holes in your roof or other structural concerns. It is important to understand when you need to replace your asphalt shingles. Call A & B Home Improvement if you notice:
Buckled or curled shingles
Cracked shingles
Lifted shingles
Missing shingles
Ceramic granules in your gutters
We Help Your Home Look Its Best