Skip to Content
A & B Home Improvement Specializes in Flat Roofs
Flat roofs are affordable roofing options for homeowners and commercial building owners. If you are considering a flat roof for your property, turn to the experts at A & B Home Improvement. We have been flat roofing contractors in Baltimore, MD, and the surrounding area for more than 80 years, so you can rest assured we have the expertise to install, repair, and maintain your flat roof. Contrary to many of the stereotypical steep roofs, a flat roof has relatively little pitch. It may not be completely flat – it still needs to allow for some runoff – but it uses considerably fewer materials than its counterparts, making it an affordable alternative. If you need flat roofing services from highly-trained professionals, call A & B Home Improvement today.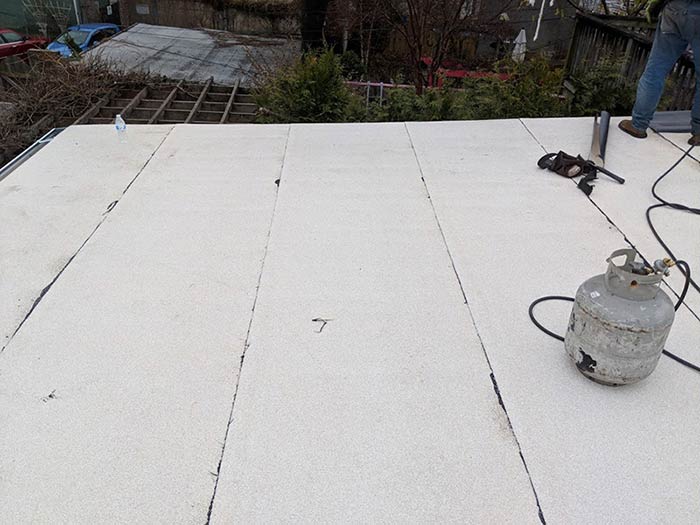 We Perform High-Quality Flat Roof Installations
Our residential flat roof contractors have decades' worth of flat roof installation experience. We use the best possible flat roof materials available to ensure your satisfaction and protection from nature's elements. The process involves ensuring your roof has ample support, carefully layering the roofing material to guarantee no leaks, and providing a durable finish. Among the roofing materials available for flat roofs are:
Modified Bitumen (MB)

Asphalt-based MB
Mineral or gravel surface roofs

Single-Ply

EPDM (Rubber) roofs
PVC roofing
Thermoplastic Polyolefin (TPO) roofing

Built-Up Roofing (BUR)
Determining Whether to Repair or Replace Your Flat Roof
Flat roofs experience many of the same issues as conventional sloped roofs, among other issues. It is important to recognize when you need to repair or replace your flat roof, and A & B Home Improvement is happy to provide the necessary guidance. Call us for roofing services if you notice any of the following:
Standing water
Water stains on ceilings
Leaking water
Bubbling or blistering on your roof
Warped or buckled roofing membrane
Damaged flashing or seams
Cracks in the roof
In many cases, minor repairs will be sufficient to restore your roof to a safe condition. By calling us at the first sign of trouble, you will minimize your repair costs and increase the likelihood of quick repairs. However, if your roof has sustained significant damage or its underlying materials are in poor shape, it may be more cost-effective to replace the roof instead of repairing it.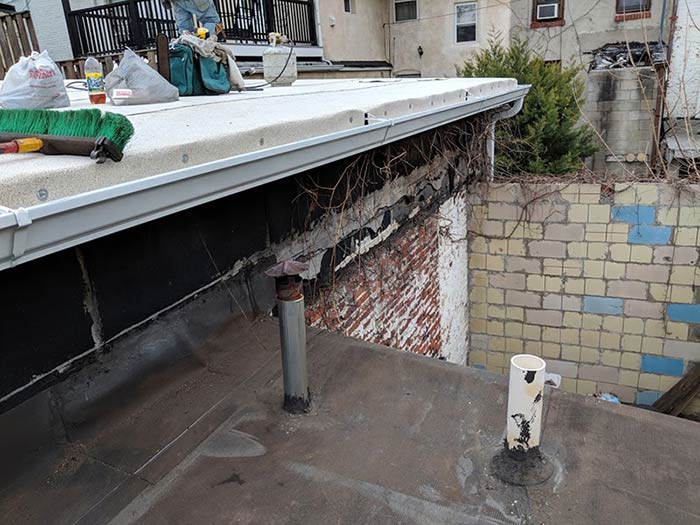 Benefits of Flat Roofing
Flat roofing is far from the most common roofing style available, but it has considerable advantages that are not always present in traditional roofs. A & B Home Improvement is proud to explain the benefits of flat roofs to our customers. They include:
Affordability
Modern designs
Additional space
Easy accessibility
Durability
Longevity
Contact A & B Home Improvement Today
Whether you want to remodel your home, build a new home with a unique twist, or cover your commercial property, you should consider a flat roof from A & B Home Improvement. Our roofers are adept at installing, repairing, and maintaining all styles of flat roofs for customers in Harford and Baltimore County, MD. Contact us today to request a free estimate.
We Help Your Home Look Its Best