Skip to Content
Home Improvement Experts Serving Essex, MD
Since 1938, the A & B Home Improvement team has been serving home in Essex, MD, and all over Baltimore County and Harford County. Do you have a project in mind involving roofing, remodeling, or home improvement services? Give us a call and see how we can help by receiving a free estimate for everything you want to accomplish. Our professionals have received all the necessary training and received licensing and certifications to give you peace of mind when hiring us. They also come equipped with industry-leading tools and materials matching your budget. By working together, we can help you give your house everything you need to make it feel like a home. Whether it's a fun remodel project or something you need to be fixed for the safety of your family, A & B Home Improvement is the team to call.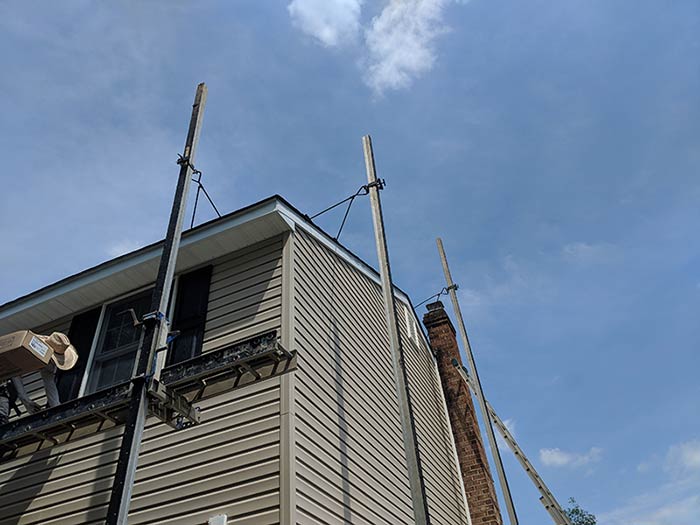 What Are Soffits
An often-overlooked portion of your roof, the soffit is quite important when considering the safety of your home. It also helps your home look more complete and adds to the overall aesthetic. The core purpose of your home's soffits is to protect your rafters from moisture, including rain, snowmelt, and morning dew. In doing so, you are safeguarded from mold, mildew, and early rot. As the first line of defense against the elements, they also serve as a blocker from allowing any pests or animals. They attempt to get into these spaces to live in the winter or get away from the rain. Depending on the build of your home, it can also help your attic get the proper ventilation it needs to also prevent mold and mildew from damaging this area. This is helpful regardless of if your attic space is utilized as a finished space or not. More than likely, if it is unfinished, you do not go up there as often, so your soffit ensures it is protected when you do need to store those Christmas decorations or other odds and ends.
Reliable Soffit Services from Trained Professionals
Our professional team has studied all of the best ways to install, repair, replace, and maintain soffits on all styles of home. Having been in the industry for more than 80 years means we have pretty much seen it all when it comes to damage to this area of the home. Once inspected, we can quickly get to work developing a personalized solution to ensure they can do their job correctly and protect your home. We carry all the tools we need to complete the job to prevent running back and forth to the office and save you time and money. We can work on all soffits no matter the materials used for the original construction. If necessary, the replacement can help you choose a better option to prevent regularly occurring damages. Count on us as your go-to when you need soffit services such as replacements, repair, and regular maintenance. By getting regular check-ups, we can help prevent premature replacements.
Soffit Installation & Repair Processes
Whether your soffits have become damaged over the years or you had an accident involving them, the trusted team at A & B Home Improvement can help with our unparalleled soffit services. We quickly get to work to develop a solution and provide the necessary repairs or replacements. Our installation team ensures all seams are properly sealed. We also walk you through the process and give you a chance to be the final inspector of our work. If you are not satisfied, we keep working until you are 100% happy with the work we have performed. You are our number one priority. Ice dams, improper flashing, torn shingles, and faulty gutters are generally the primary culprits for damaging these areas. Our expert team will help you recognize when problems arise because of them, so you know when to call for our soffit services. Our skilled team can help with wood, aluminum, vinyl, and more to make your Essex home look great and stay protected throughout the year. We will also benefit by inspecting the area for critters such as birds or squirrels, who can set up their home in this area.
Why Choose A & B Home Improvement
The great thing about working with A & B Home Improvement is that we can provide more than just soffit services. We aim to be your go-to team when you need help with all aspects of your roof. Our team can assist with gutter and siding services as well. Having a well-rounded team like ours on your side ensures your home stays as protected as possible without having to rely on multiple service providers to get it done.
Reach Out Today for an Honest and Free Estimate
Even if you are unsure about the health of your soffit and roof, it is essential to call on A & B Home Improvement for an inspection. Having us check out this area before there's a necessity for soffit services can save you plenty of time and money. Replacements will always cost more than essential soffit services. Our team swiftly inspects the suspected problems and develops a personalized solution that works with your budget. We begin every project with a free and honest estimate to be as transparent as possible about what is necessary. Give us a call today and let us see how we can protect your home even further with roof and soffit services.
We Help Your Home Look Its Best