Skip to Content
We Can Install a Range of Roofs
Why Invest In A New Roof?
Many benefits come with investing in a new roof for your home or business. These benefits include increased energy efficiency, enhanced curb appeal, upgraded insulation, and so much more. Below, we've gone into detail about some of the primary benefits of new roof installation:
Increased Energy Efficiency – A new roof installation from a licensed roofing contractor can increase your monthly energy savings while making your home or business more comfortable.
Enhanced Curb Appeal – When expertly constructed from the finest, most durable roofing materials, a new roof on your family home or business can enhance your curb appeal.
Upgraded Insulation – A new roof can do a lot for the comfort levels of your home. With the upgraded insulation, you can expect your home temperatures to be stable and comfortable.
Return On Investment (ROI) – When you invest in a new roof, you can expect to receive up to 70 percent of each dollar you spend on it when you sell your home.
Safety & Security – When you replace your old roof with a new roof, you become less susceptible to possible safety hazards like water damage.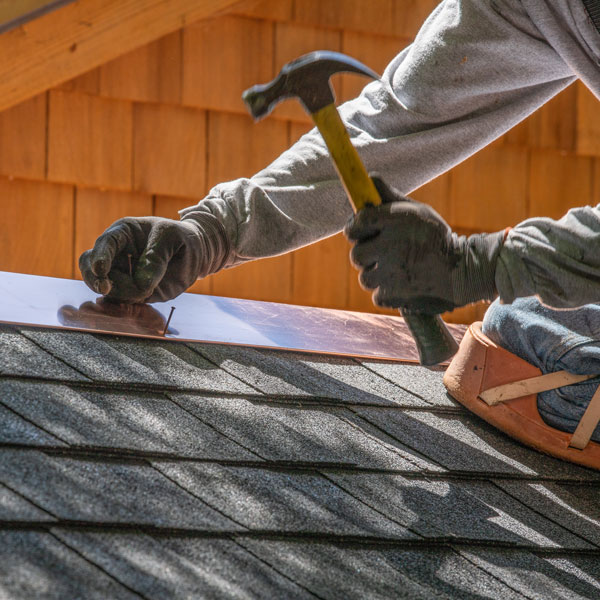 Your Go-To Local Roofing Contractor
A & B Home Improvement provides premier roofing installation in Essex, MD and throughout the surrounding areas, including Baltimore, Harford County, and more. The roof is your home's most significant protection from the elements. That's why you want to ensure it's always able to do its job. When you hire a qualified roofing contractor like A & B Home Improvement, you can rest assured knowing your home or business is protected. We offer residential roofing to commercial roof services, including new roof installation and reroofs of existing structures. Whether you have a new build project or are currently experiencing issues with your roof, we're the team to call.
Installing Many Types Of Roofing Materials
At A & B Home Improvement, we ensure everyone on our team has extensive knowledge about roof installation, repairs, and other maintenance services. All of our roofing professionals are licensed, certified, and equipped with the proper tools and training to complete your project to the highest quality. Every one of our roofing jobs uses high-quality materials to ensure you receive superior results and a roof to last for years. We're able to install and reroof the following types of roofs.
Slate Roofs
Slate has been used for centuries to create beautiful and sturdy roofs and can last anywhere from 40 to 200 years. This low-maintenance and high-durable material makes an excellent choice for any home roofing in Baltimore. It is available in various colors and grades, so you're sure to find one to match your style.
Tile Roofs
Tile roofs are making a comeback and for a good reason. Not only are these stunning clay tiles aesthetically pleasing, but they are also highly durable. When you allow our expert team to install your tile roof, it can last as long as 50 to 100 years.
Silicone Flat Roofs
Silicone flat roofing is an excellent option due to its moisture resistance. Unlike acrylic, silicone does not absorb water, making a silicone flat roof a solid opponent for rains and melting snow.
Because rubber roofing materials are waterproof, durable, and pliable, they're the best option for areas where traditional shingles won't perform well. A single-ply synthetic membrane rubber roof is an excellent option for low-sloping or flat surfaces.
This material is one of the most commonly used roofing surfaces in the United States. Not only are they fire and wind-resistant, but they also stand up to other harsh conditions like snow and ice. We install asphalt shingles from CertainTeed, the premier manufacturer of asphalt shingles in the United States.
A flat roof can protect your property for many years with proper construction. Our team can design and install a roofing system that will work for your structure, providing protection, beauty, and durability.
Metal Roofs
For many years, metal roofing was only found on commercial buildings. Still, homeowners have started to take advantage of the many perks offered by this material. Metal roofs are durable, standing up to harsh weather and strong winds. Not to mention, its lifecycle costs can be much lower than that of other materials, making it more affordable in the long run.
Why Choose Us For Roofing Installation?
If you're looking for an affordable roofing contractor offering full roof replacements in the Essex, MD area, you've come to the right place. We want our valued customers to save money on their next home improvement project, which is why we offer discounts and coupons. At A & B Home Improvement, we provide no-pressure consultations, transparency, expertise, and guarantees. We understand everyone is on a budget, which is why we offer affordable rates for all of our home improvement services.
Contact Us For Roofing Installation Today
Do you have a new construction project? Is your roofing starting to show signs of age? No matter what type of project you have for us, our local roofing contractors in Baltimore are ready to take it on. Give us a call today to set up a time to discuss your roofing project. Contact us today to discuss your roofing project or to request a free quote. We're ready to help you with your roofing installation!
We Help Your Home Look Its Best