Skip to Content
Baltimore's Leading Emergency Roof Repair Professionals
Take Advantage of Our Emergency Roof Repairs
Whether it's caused by bad weather, falling tree branches, or more, damage to the roof often happens at the most inconvenient of times. Any damage to your roof can expose your home to the elements, possibly leading to further costly repairs. It's essential to act fast. When you need help, rely on A & B Home Improvement. We're committed to offering unrivaled emergency roof repairs to Baltimore, Essex, and Harford County, MD. We'll respond quickly, tarping your roof if necessary while completing a full inspection of your roof. Our roof technicians have the expertise and skills to fix the damage quickly. Don't wait. Call us today to request an estimate.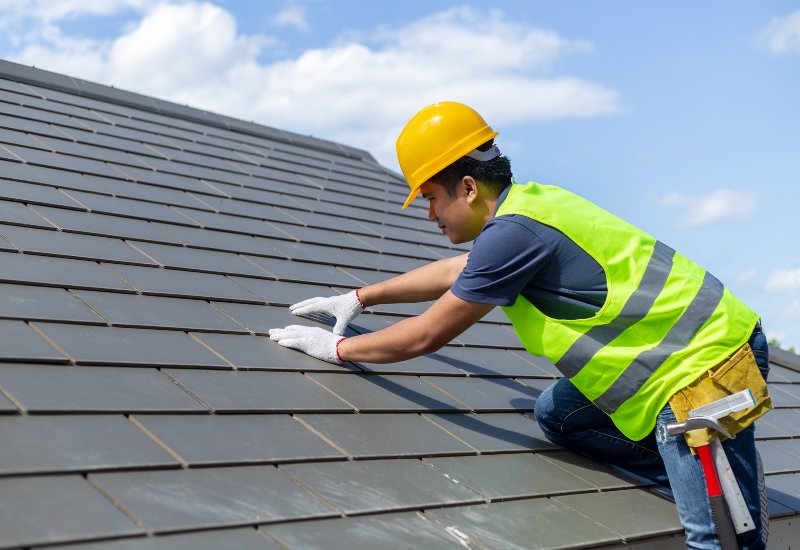 Types of Damage That Require Emergency Repair
While damage to your roof can happen anytime, it's essential to understand which types of damage require our emergency roof services. We've compiled a list of various types of damage we routinely see when we're called to help with emergencies. If you're unsure if the damage to your roof is an emergency, don't hesitate to call us. It's better to be safe than sorry. Take a look at our list of different types of emergency roof repair damage:
Water Damage – Water damage is the most common type of damage. Several things, such as heavy rain, snowstorms, or your roof's age, can cause water damage. If left alone, water will seep between the joints and head deeper into your roof, damaging your home's interior.
Storm Damage – Maryland is no stranger to storms. Heavy snow or rain can damage your roof over time. Following any storms, inspecting your roof to ensure no shingles are blown away, and no leaks started is recommended.
Pest Damage – It's not uncommon for pests like squirrels or even rats to make their way onto your roof. They can chew through your roof and expose your home and roof to the elements.
Impact Damage – Whether caused by trees or hails, impacts can pose a severe risk to the structure and stability of your roof. Repeated impacts can cause your roofing granules to become compromised or create holes in your roof. It's recommended to let our team assess any impact damage.
How Can I Tell If I Have a Roofing Emergency?
Your home's roof is your home's primary defense against severe weather and the elements. Therefore, it's so vital to have a structurally sound roof. We consider a roofing emergency any damage that affects or compromises your roof's ability to keep out unwanted debris and elements. This includes anything that puts your roof's structural integrity at risk. When determining if you should call our emergency roofers, it's essential to consider the leak's location or hole in your roof. It may be possible to wait if there is a small leak in your living room. Still, any leak near your electrical box requires our roofing professionals immediately.
What Should I Do During a Roof Emergency?
The first and most important thing to do during a roof emergency is to remain calm. First, you should always stay off the roof. A damaged roof is dangerous because it's difficult to determine if the roof is structurally intact. When you inspect any roof damage, be sure to do so from the ground. While you're looking at your roof, we recommend checking if your home is in danger of more damage from falling debris. Lastly, if any holes are letting in water, protect your home using plastic sheets and tarps under any hole. Rely on our emergency roof repairs to get your home back in working order.
Explore Our Emergency Tarping Services
Our emergency roofers have experienced all types of emergencies. Heavy winds or sudden and unpredictable issues may expose your roof briefly. When this happens, take advantage of our tarping services. We'll arrive and thoroughly survey the damage before recommending repairs. Tarping your roof will keep your home safe from the elements while you wait for roof repairs to begin. We ensure each tarp is laid out to prevent flapping in the wind and letting in water.
How to Calculate Emergency Roof Repair Cost
After the initial shock, it's not uncommon to think about the associated cost of the necessary repairs. When calculating the cost of repairs, we consider factors such as the extent and severity of the damage, what type of damage, and more. Here is a look at what factors we consider when calculating emergency roof repair costs:
The Extent of the Damage
Type of Damage
Type of Roofing Material
Why Call A & B Home Improvement?
The A & B Home Improvement can help you prevent further issues from occurring. When you call, we'll send one of our emergency roofers to your home as quickly as possible. Once we finish assessing the damage, we'll work with you to create a plan of necessary repairs to help keep you and your family safe. We start by properly sealing your roof to ensure water and other debris doesn't enter. We'll work diligently to restore your roof to like new. Regardless of what you need, you can rely on our team to be there.
Rely on Our Emergency Roof Repair Service
We've been Baltimore's trusted emergency roof repair company since 1938. Each of our roof technicians is committed to providing excellent services without sacrificing the customer experience. We understand how to protect your home properly while we strive to prevent additional damage. A & B Home Improvement works hard to offer our customers affordable rates for emergency roof repair. Call us when an emergency strikes for a free estimate.
We Help Your Home Look Its Best