Skip to Content
How to Choose the Best Roofing Material for Your House
Advice in Choosing the Best Roofing Material for Your Home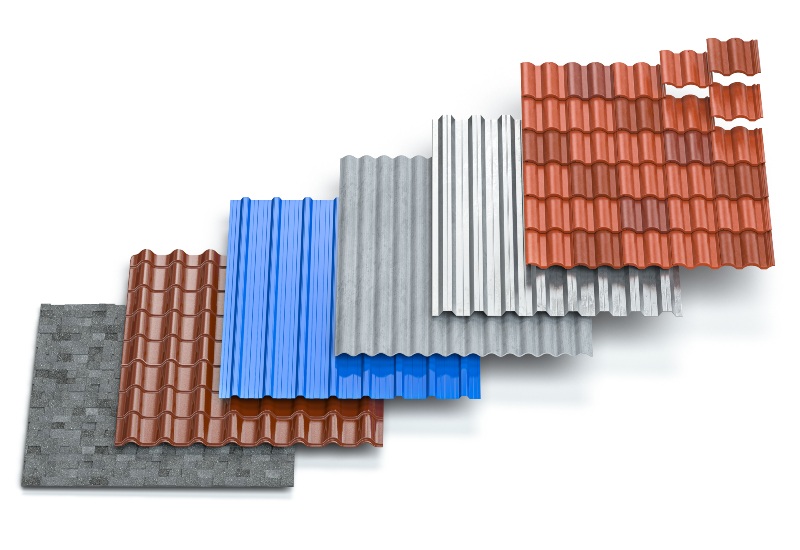 Your roof is an essential component of your home, providing protection from the elements and contributing to the overall look of your home. There are several different types of roofing materials available in today's market, and each has its own advantages and disadvantages. Your choice will depend on several factors such as your budget, the climate where you live, and your personal preferences. To help you with your decision, here is some information about the various roofing materials and the pros and cons of each.
Different Types of Roofing Materials
Asphalt Shingles
Pros – Affordable, easy to find, easy to install, and available in a large range of colors.
Cons – Shorter lifespan that other types of roofing, colors can fade over time.
Metal Roofing
Pros – Long lifespan, durable, fire resistant, lightweight, energy efficient, recyclable
Cons – Higher initial cost, can be noisy during a heavy storm, and requires professional installation.
Clay Tiles
Pros – Durable, fire resistant, long lifespan, excellent insulation, aesthetically attractive
Cons – Heavy enough to require a stronger roof structure, higher installation costs, and the tiles can break upon impact.
Metal Shingles
Pros – lightweight, durable , fire resistant, wide range of styles and colors
Cons – Higher installation costs, can be noisy during a rain or hail storm.
Synthetic Roofing Products
Pros – wide range of styles and colors, great durability, lower maintenance than natural materials
Cons – cost can vary depending on the product, may not offer the same look as natural materials.
Wood Shakes
Pros – Natural and rustic appearance, good insulation properties, can be repaired easily
Cons – Requires regular maintenance, susceptible to rot, mold, and insect infestation, may not be allowed in fire prone areas.
Solar Tiles
Pros – Generates electricity, eco-friendly, can lower energy costs.
Cons – Higher initial cost, requires professional installation, look may not be pleasing to some.
Green Roofing
Pros – Energy efficient, reduces storm water runoff, improves air quality, provides a high degree of insulation.
Cons – Requires specialized installation and regular maintenance, higher upfront cost
Concrete Tiles
Pros – durable, fire resistant, long lifespan, low maintenance, many styles and colors available
Cons – Heavy, requires a strong roof structure, higher installation costs, may fade over time.
Slate
Pros – Elegant appearance, lifespan can be as long as 100 years, fire resistant, low maintenance
Cons – Very expensive, requires professional installation due to its weight, the shingles are fragile and can break if not handled correctly.
Built-Up Roof
Pros – Excellent water proofing, durable, low maintenance
Cons – Heavy, requires professional installation, may emit odors during installation.
Factors to Consider When Choosing Roofing Material
Selecting the right roofing for your home is an important decision. To help make it simpler, here are some considerations to keep in mind:
Durability and Lifespan – Some materials have an extremely long lifespan.
Cost – Different roofing materials have different costs. Some materials are more expensive, and some require more costly labor during installation. Take a look at your budget to see what type of materials you can afford.
Maintenance Requirements – Some materials require very little maintenance while other types require regular maintenance
Environmental Impact – Some materials, such as metal, are recyclable and more environmentally friendly
Energy Efficiency – Roofing with excellent insulating properties will help you to save on your heating and cooling costs.
Noise Considerations – Certain materials, such as metal roofing can be very loud during a rain or hail storm.
Weight and Structural Considerations – Materials such as clay tiles, concrete tiles, or slate can be very heavy and may require the structural roofing components to be reinforced. This makes it a good idea to consult a structural engineer to make sure that your roof can support these materials.
Aesthetics – Think about the overall style of your home and choose a roofing material that will complement it. The appearance of your roof can significantly impact the look and curb appeal of your home.
Local Regulations or Restrictions – Check with local building codes and your homeowners' association's guidelines to make sure that your choice of roofing materials will be in compliance.
Pitch of the Roof – If your home has a very steep roof pitch, cedar shakes or shingles would be a good choice because wood sheds water faster. If your roof has a lot of corers or edges, slate roofing may be better because it's easily cut into custom shapes and sizes to match the architectural features of your home.
Final Words
Choosing the right roofing material for your home requires you to carefully learn the various types of materials and the advantages or disadvantages of each before making your decision. Cost is definitely a factor, but not the only consideration. Discussing the types of materials with your professional roofing contractor can help you to find the right materials at a price you can afford.
A&B Home Improvement has been serving the Baltimore County area as a top-rated roofing repair contractor since 1938 with a proven record of quality craftsmanship, unmatched service, and a focus on customer satisfaction. We are a family-owned and operated business specializing in commercial roof repair, residential roof repair, siding, windows, additions, trim work, painting, and more. From planning and design all the way to the final touches, we work with you to achieve a quality job that you'll be pleased with for years to come. No matter if you need an emergency roof repair or if your roof has reached the end of its life, we want our customers to feel confident with their choice of working with A&B Home Improvement. All of our projects carry a 15-year warranty, and shingles come backed by up to a 25-year-to-lifetime warranty.
If you'd like more information about the products and services we offer, visit our website, or give us a call at 410-881-6258. We look forward to helping with your home improvement needs.